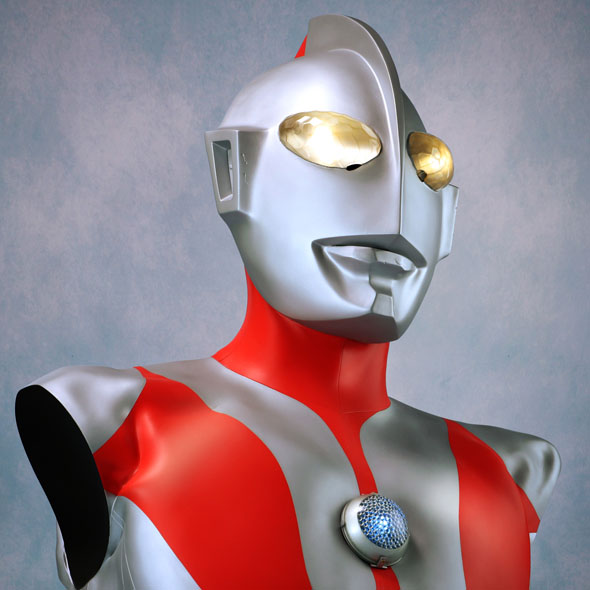 Ultraman, which began airing on TV in 1966, has been loved by many generations as a hero representing Japanese Tokusatsu (special effects) to this day.
This project was fully supervised by Fuyuki Shinada of LSS, the sculpting division of Tsuburaya Productions, and product development was conducted under the supervision of Yuji Nishimura of M1, one of Japan's leading collectors of Tokusatsu, who has produced and sold numerous Tokusatsu figures.
There are three types of suits actually used in the filming: A-type, B-type, and C-type. CoolProps aimed to create a supreme bust based on the C-type suit that appeared at the end of the series, which is close to the ideal form, using a wealth of data to the maximum extent.
The asymmetrical shape as well as the seamless red and silver paint reproduces the difference in texture. The mask and body silver are painted differently. The surface of the mask has brush marks. The eyes and color timer can also be made to glow.
The coloring samples were produced by Dummy Head Designs, a company led by Fujiwara Kakusei, a special makeup designer who has worked on numerous movie productions.
The product set comes with an original plate with a serial number.
*Serial numbers are assigned in the order of sale.
Series

PROP REPLICA

Materials

FRP, Polystone

Product Size

Height: 31.5″ (80 cm) | Width: 21.65″ (55 cm) | Depth: 17.71″ (45 cm) | Weight:44 lbs (20kg)
*The dementiones listed above are all tentative. The final size might slightly differ.

Accessories

Comes with AC adapter and plate with serial number and signed by Bin Furuya
© TSUBURAYA PRODUCTIONS
If you would like to distribute this item in Singapore, Indonesia, Malaysia, please contact us at
onlineshop@coolprops.com
ULTRAMAN C-TYPE SUIT SIZE BUST PROP REPLICA
List Price
$2,600.00
One-time payment
$2,600.00
Stock Status : Pre-order